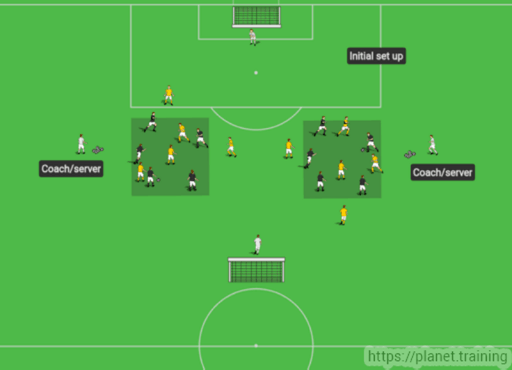 By Steven Smith
Area Size: Two 12 by 12 yard grids are set up just outside the 18-box as shown. Groups are divided into five per group. Need at least 10 players plus keepers.
Teams: Four teams of five in two different bib colors
Time: 12 minutes
Objective: To be able to technically retain possession in tight spaces and release to get shots off on goal. Also, to be able to use targets to overload and penetrate defenses.
Set up and Execution:
The teams with five in the grid (Black) attempt to connect five passes and then they can go to goal. Once five passes have been made the final pass goes out of the grid and a single player releases from the grid and takes a shot on goal. If the shot is on target or scores, then the black team retains possession for the next start. If it is not on target, the yellow team now gets possession and they have five in the grid. Black players must drop two players outside of the grid and play continues in this fashion. Additionally, if the team with three intercept the ball and can get it to their target player outside of the grid, that team may now go to goal. If they put the ball on target or score they too retain possession for the next ball start-up.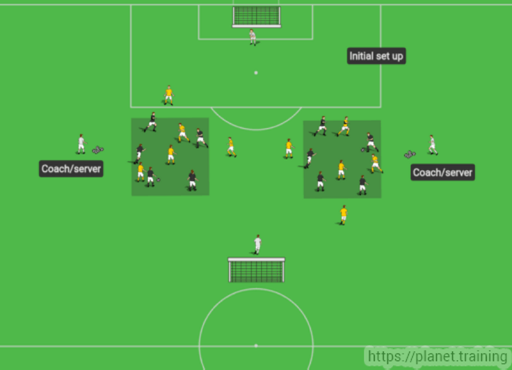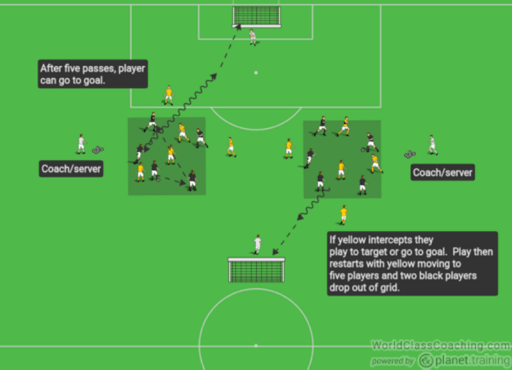 Variations:
Add trailing pressure to the shooter coming out of the box.
The target yellow player can become the defender after playing the ball to the shooter
By Steve Smith
Steve Smith has been a men's college coach that holds an NSCAA Advanced National Diploma and a Doctorate in Physical Education.