Harness the rapid improvements of small group training with drills that will give your players more touches and more time on the ball in every session
Finally, the blueprint for small group training is here! Competitive Small Group Training is a special guide on how to gain the accelerated improvements from small group training. Packed with other 70 drills and numerous progressions, this book provides everything you need to improve your players' technique, tactical awareness and more through the intensity of small sided training.

Dear Coach,
Are you struggling to get the improvements you want in training? Are your players not getting enough time on the ball to advance their skills? If so, maybe it's time your players stopped waiting in lines and spent more time practicing through performing small sided group training drills.
Competitive Small Group Training is a special book focused on small group training. Comprising of over 70 drills and exercises, with multiple progressions, this book provides everything you need to gain rapid advances in your team's performance. Divided into sections on technique, tactics and stamina, the drills in Competitive Small Group Training include defensive footwork, triangular passing moves, dead ball situations and more. All of the drills have been carefully selected to enable you to create dynamic training environments that will raise the intensity and give your players more time on the ball in every session.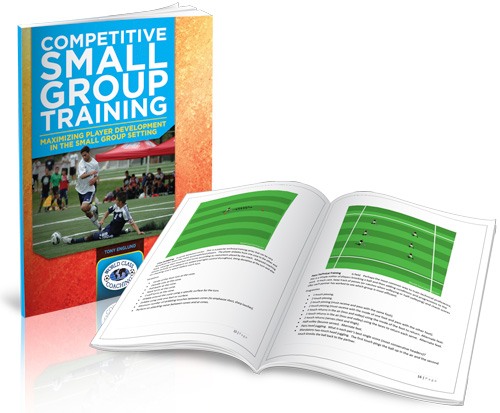 Competitive Small Group Training also features a forward by former US international player Tony Senneh. All of the proceeds from this book go towards the Senneh Foundation, which helps disadvantaged kids to learn valuable life lessons from the game of soccer. So buying Competitive Small Group Training will not only improve your players' abilities but will also help kids less fortunate to gain the physical and mental benefits of the beautiful game.
"The book is a tremendous compilation of high level exercises for coaches working with players at all levels.  I've seen many of these very same drills used in numerous professional environments throughout my 17- year career.  But just as importantly, I've witnessed Tony using these drills to great effect in developing the technical abilities of the players he works with.
What I believe is so valuable about this book is that it gives coaches the tools to develop technically and tactically-advanced players with the skill sets required to play the game confidently and creatively, no matter what system or tactical model a particular coach plays within."  Tony Sanneh, Bundesliga, MLS and United States National Team, The Sanneh Foundation


Every technique and skill is covered, enabling you to build complete coaching sessions harnessing the rapid improvements gained from small group training

Whether you coach amateur soccer, teams in the MLS or elite players at an international level, the basic skills every player needs to be successful are universal. The only way to build these skills is through endless practice on the training pitch. And it's not rocket science that the key to accelerating the rate of improvement is through maximizing the amount of time players get on the ball.
However, this can be difficult to achieve with conventional full team training drills, with too many players waiting in lines or not directly involved. Another problem of full team training drills is that players aren't necessarily gaining improvements to the core skills they need in their position. Defenders, for example, benefit more from drills focused on defensive footwork, while forwards should focus more on their finishing.
For these reasons, more coaches are switching to small group training, with drills focused on specific skills and which give players more time to practice. Competitive Small Group Training is a special booked focused on this style of training, with drills that will accelerate improvements to your players' touch, technique, decision making and more.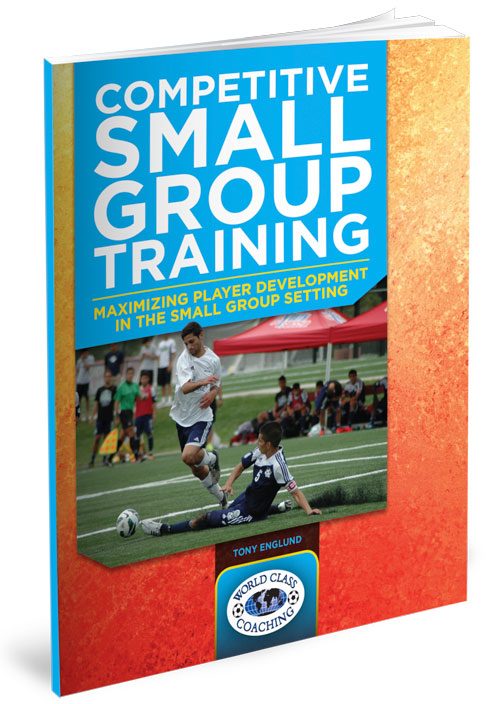 In all the book's I've read on soccer coaching, Tony's are among the best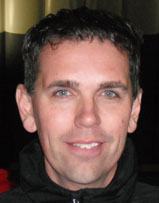 The author of Competitive Small Group Training, Tony Englund, has extensive soccer coaching experience, holding 14 coaching certifications, including the NSCAA Premier, Director of Coaching Diploma, Advanced National Diploma and an International Coaches' Association Fitness and Conditioning for Soccer Licence.
Englund spent an incredible number of hours studying countless Barcelona games from 2009 up to the current 2012 season, including La Liga games, Champions League, Spanish Cup games, and the FIFA World Club Championships.  This resulted in a thorough analysis and an extensive breakdown of Barca's tactics and style of play.
During a fifteen year playing career, Tony played goalkeeper on high-level youth and adult club teams, helping his high school team to a conference title and a number one ranking. Englund's club teams have earned five state championships and compiled more than 350 wins and fifty tournament and league championships.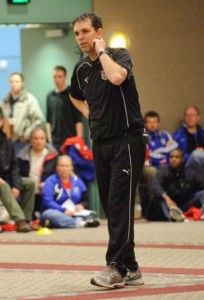 Between 1996 and 2003, Englund served as head coach at Hill-Murray Girls High School. During the 2001 regular season the team earned a record of 18-0-0, making them the only unbeaten team in school history.  That year, Englund was named Minnesota State High School Soccer Coaches Association Coach of the Year.
Tony Englund is currently the Assistant Director of Coaching at St. Croix Soccer Club and a lead presenter at the Minnesota Youth Soccer Association's Winter Symposium in 2009, 2011, and 2012.  He was also a presenter for the Minnesota State High School Soccer Association's Fall Clinic in 2011.high-level coaching symposiums.  Tony has also authored these books with WORLD CLASS COACHING – FC Barcelona, Players Roles in the 4-3-3 and Goalie Wars!

What's covered in Competitive Small Group Training

The drills in Competitive Small Group Training are split into separate sections focused on technical, tactical and fitness exercises. Every drill features a detailed diagram with an explanation of how the drill is performed. Variations are also provided for progressing the drill further.
The technical section focused on drills that will sharpen your players' skills, touch and pace. In fact, each drill helps to create an entire training environment, with a high level of intensity that will challenge your players to advance their technique in multiple areas. Some of the drills includes intensive touch training, speed passing, German pattern passing and the West Ham Windows drill.
The tactical section of Competitive Small Group Training provides training sessions for improving the ability of your players to read the game, to make quicker decisions and to perform under pressure. The drills in the tactical section achieve this through recreating game like situations on the training pitch. Your players will then become more familiar with these situations, so that when they occur on game day they'll be mentally and physically prepared. Some of the tactical drills include pressure finishing and recovery, 1v1 Goal Boggies, crossing drills and dead ball exercises.
The conditioning section features drills that enable players to boost their endurance and technical ability at the same time. Rather than simply run around cones or perform drills in lines, these drills enable players to improve their fitness with a ball at their feet. Dynamic and challenging, the fitness drills include pairs passing, Dutch assembly line, whirlpool and steeple chase.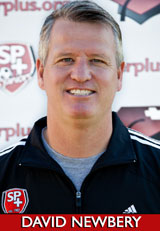 "In 'Dynamic and Competitive Small Group Training: Maximizing Elite Player Development' Tony Englund has removed the guess work associated with selecting the right content, enabling coaches to concentrate on methodology and coaching personality.  As a Director of Coaching, I have no hesitation in introducing this book as an integral part of the club's player development approach.
Both experience and novice coaches can follow the themes extending throughout the book, including ball mastery, passing, receiving and combination play.  By following a simple to complex approach, coaches will develop enjoyable and challenging sessions that maximize contact with the ball.  The book helps to make coaching instinctive and gratifying." Dave Newberry, Director of Coaching SoccerPlus Junior Hawks

What you will gain from Competitive Small Group Training

Featuring over 70 exercises and dozens of variations, Competitive Small Group Training provides everything you need to improve your team's technique, reading of the game and endurance at an accelerated pace. Rather than waiting in lines, players will be active in every drill, gaining more touches and time on the ball in every session. What's more, Competitive Small Group Training enable you to setup different drills for different players in the same training session. Defenders can be set practicing 1v1 dueling drills, for example, while midfielders can be given pattern passing exercises.
From Competitive Small Group Training, you will gain:
Over 70 small group training drills, with many variations and progressions
Detailed diagrams and clear explanations for every drill
Technical training drills that will improve your players' touch, pattern passing and finishing
Tactical drills to improve decision making, situational awareness, reading of the game and ability to finish under pressure
Conditioning drills that will increase your team's endurance, defensive footwork and dribbling
Less time wasted with players waiting in lines to perform the drill. They are constantly engaged throughout
Improvements to fitness and technique at the same time
The ability to get different players working on different drills in the same session
Increased player confidence and creativity from gaining more time on the ball in practice
Accelerated improvements throughout the team in multiple areas
With more time on the ball and more involvement in every drill, your players will relish training
The drills in Competitive Small Group Training are the same as those used by the elite teams to develop a technically and tactically astute team. They help to develop the foundation skills all players need, making them equally beneficial for teams at every level. The variations provided for each drill also enable you to adjust the intensity to suit your players' skill level.

100% 'no quibbles' 6 Month Money Back Guarantee

WORLD CLASS COACHING is recognized globally for the quality of its soccer coaching resources, which are used by over 40,000 soccer coaches from around the world. We wouldn't be offering Competitive Small Group Training unless it achieves our exceptionally high standards. However, if you are not 100% satisfied with the quality of the Competitive Small Group Training after six months of implementing its soccer drills and exercises then please contact us for a no quibbles refund.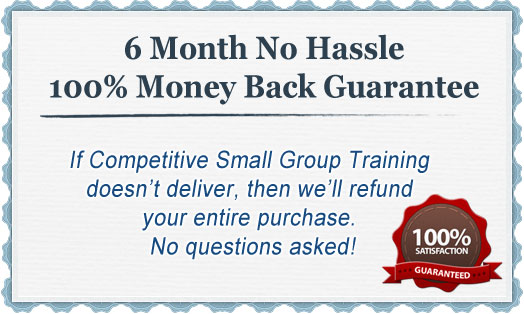 "Why waste time with your players standing in lines when they could be practicing and honing their skills"

When you're struggling to gain improvements in multiple areas, running full team training sessions might not be the answer. Full team training can limit the amount of time players get on the ball, with time wasted while they wait in lines. It also means players aren't working on the specific skills they need to improve to be effective in their role.
Competitive Small Group Training is packed with drills you can use to give your players more time on the ball and more opportunities to improve in every session. Whether you want to improve defensive positioning, passing speed or your ability to score from crosses, this book features a drill on how to do it. What's more, the drills in this book enable you to work on multiple skills in different areas of the pitch, so you can maximize the improvements you can gain from each player in every session.
Best Wishes,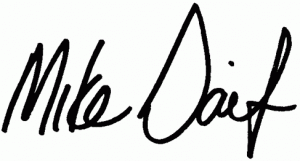 Mike Saif
President
P.S. Competitive Small Group Training is packed with drills and exercises that will stop your players from waiting in lines but will instead give them more time on the ball in every session. Everything is covered, from defensive footwork to triangular passing to crossing and more, enabling you to gain rapid improvements in multiple areas in every session.
P.P.S If you are not 100% satisfied with the quality of the soccer coaching resources in Competitive Small Group Training after six months then we will refund your purchase in full, no questions asked.