Join the Counter Pressing Revolution and Use An Opponent's Technical Advantage Against Them
Jurgen Klopp has transformed the game of soccer.  His tactics of high pressure defending, forcing the opposition to turn over the ball and then punishing them with quick counter-attacks is revolutionizing soccer at the highest level.
(Plus a FREE eBook…see below)
Dear Coach,
What's the best way to beat a team that's got better technique? Hoping strikers get on the end of a long ball? Play a 10 man defense and hope you can get a lucky goal? Or being smart and using your opponent's technique against them by counter pressing?
Jurgen Klopp is showing just how successful this can be with the tactics he first pioneered with back to back German Bundesliga championships with Borussia Dortmund and now with Liverpool in the EPL.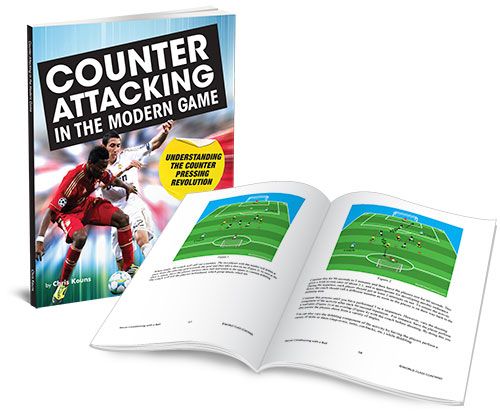 Counter-Attacking in the Modern Game – Understanding the Counter Pressing Revolution is a special guide focused on how to teach your teams how to press high, force turnovers and then harness counter attacks just like Klopp does with Liverpool and many top German teams do.  Counter-Attacking in the Modern Game will give you a tactical edge on how to win.

"Quite simply the best tactic to beat teams that are better than you"
In the 2000s, Barcelona and Real Madrid looked untouchable. Their high possession tiki-taka style of quick, accurate passes saw them slice through defenses and score goals in abundance. Nobody could figure out how to beat them.
That was until the German Bundesliga teams started playing Counter-Attacking soccer. This enabled them to use the skill of the Spanish teams against them. The German sides simply sat back, soaked up the pressure and then unleashed blistering counterattacks at the perfect moment. Counter pressing is a core reason behind the rise of Bayern Munich and Borussia Dortmund as major soccer powers.
Now you too can benefit from the tactics the Germans have perfected. Counter-Attacking in the Modern Game provides you with a detailed analysis of how you can replicate elite coaches, like Jurgen Klopp, Pep Guardiola and Roger Schmidt, with the fury of transition.
"A Counter-Attacking masterclass by a coach with extensive college and university experience"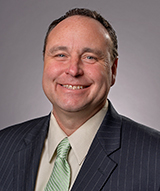 After Chris Kouns finished his studies at Mars Hill College, where he was a four-year letter winner as a defender for the Lions, earned NAIA Academic All-America honors and was a GTE-CoSIDA Academic All-America finalist, he became Head Coach at Fayette County (Ga.) High School. He stayed there for six seasons, with a 85-29-3 record and five appearances in the state's final four with one trip to the GHSA State Championship. Under Kouns, the Tigers never finished lower than fifth in the state and won two regional championships.
Kouns then stepped up to collegiate level as Head Coach at Union College (KY). Under his stewardship, the Bulldogs gained a 15-9-0 record and won the Mid-South Conference Tournament Championship in 1999 where they advanced to the opening round of the NAIA National Tournament.
After Union College, Kouns jumped to the NCAA Division I level where he served as an assistant coach for Samford University (AL), gaining 16 wins and earning a place in the A-Sun Tournament. From Samford Kouns moved on to serve as an assistant coach and recruiting coordinator for Georgia State University, helping the Panthers gain a nine-win season and a place in the A-Sun Tournament, as well as at the University of Pennsylvania, helping the team finish fourth in the Ivy League.
In 2004 Kouns became the Head Coach at Jacksonville University (FL), leading the Dolphins to the 2006 Atlantic Sun Tournament Championship and the program's second ever trip to the NCAA Division I College Cup. In 2008 he became the Associate Head Coach at the University of Cincinnati. Kouns helped guide the squad to one of the most successful seasons in the Bearcats' history, finishing 10-7-3 overall and reaching the quarterfinals of the 2008 BIG EAST Championship. In 2011 Kouns became the Head Coach at Capital University (OH) where he led the Crusaders to three Ohio Athletic Conference Championships, two NCAA Division III Regional Finals and one NCAA Division III National Semi-Final. Kouns side ended their 2013 season ranked #8 in the country by the NSCAA and he was one of ten finalist for the NSCAA Division III National Coach of the Year.
In 2015 Chris returned home to Georgia where he is currently the Head Coach at Georgia Gwinnett College. In his first season with the Grizzlies he led them to their first ever A.I.I. Tournament final and their first appearance in the NAIA National Tournament. In ten years as a collegiate head coach Kouns teams have made six national tournament appearances and enjoyed a 114-86-19 record.
Kouns holds both the USSF `A' License and a NSCAA Premier Diploma. He is currently a NSCAA Associate Staff member for coaching education and a course instructor for USSF coaching education courses. In addition he is a contributing writer for WORLD CLASS COACHING.

What's covered in Counter-Attacking in the Modern Game

Counter-Attacking in the Modern Game gives you both the tactics and the drills for harnessing Counter-Attacking to beat more technically advanced opposition. This includes:
Modern counter pressing details – A guide to positioning, mentality, tactical considerations and other factors that contribute to attacking success.
Understanding modern counter pressing – The phases of counter pressing and player attributes to encourage.
Modern architect Jurgen Klopp – How the former Borussia Dortmund coach developed the option orientated style.
The possession presser Pep Guardiola – How Bayern Munich's ex supremo used zonal orientated counter pressing.
The power presser – The man orientated approach of former Bayern Munich coach Jupp Heynckes.
Swashbuckling pressing – The ball orientated style of Bayer Leverkusen's Roger Schmidt.
Counter-Attacking training sessions – A total of 13 sessions comprising of 3 or more drills covering all the key skills your players need, including possession, passing, pressure and, of course, slick Counter-Attacking.
Author, Chris Kouns giving a half time talk

What you will gain from Counter-Attacking in the Modern Game

The game of soccer is constantly evolving. Just as the flexible 4-3-3 replaced the rigid 4-4-2, now coaches are rushing to implement Counter-Attacking as a way to beat more technically advanced teams. Many of those coaches will have discovered how to implement counter pressing effectively from reading Counter-Attacking in the Modern Game and practicing its drills.
From Counter-Attacking in the Modern Game you will gain:
A better understanding of Counter-Attacking and counter pressing.
How to train your team with the right tactics to topple giants.
How Bundesliga teams use, like Bayern Munich, have used counter pressing to become among the most dominant sides in Europe.
How to combat technique with aggressive pressing and the fury of transition.
A breakdown of how counter pressing was implemented by four elite coaches: Jurgen Klopp, Pep Guardiola, Jupp Heynckes and Roger Schmidt.
How to develop the mindset of a sideline shogun, marshalling your players like they're an army of samurai.
A total of 39 drills spread across 13 training sessions.
A team with a tremendous workrate and mentality of a wolfpack.
Counter-Attacking in the Modern Game is arguably the most up-to-date and comprehensive guide yet on implementing the German style of Counter-Attacking to stifle technically gifted opponents. It provides everything, from strategy to preparation to training, and equips you to be as tactically astute as a general taking his men to war.

And get this FREE eBook with your purchase
There was so much quality material that we couldn't fit it all into the book.  We had 15 counter attacking training sessions that we couldn't find room for.  So we have put them into an eBook, 15 Training Sessions for Counter Attacking, that we will give you absolutely free with your order of Counter Attacking the Modern Game.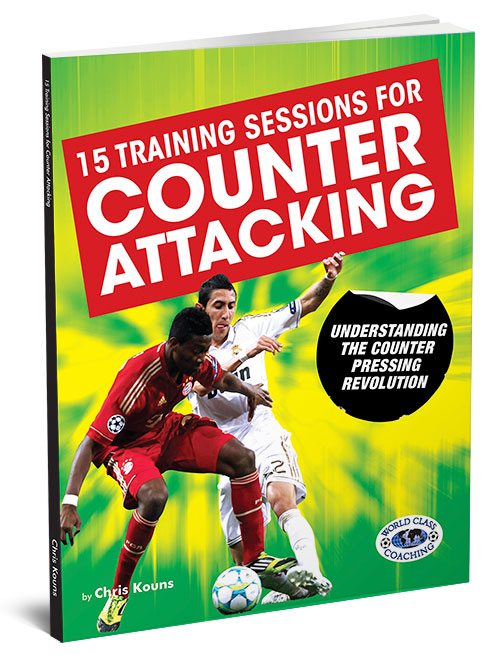 100% 'no quibbles' 6 Month Money Back Guarantee
WORLD CLASS COACHING is recognized globally for the quality of its soccer coaching resources, which are used by over 60,000 soccer coaches from around the world. We wouldn't be offering Counter-Attacking in the Modern Game unless it achieves our exceptionally high standards. However, if you are not 100% satisfied with the quality of Counter-Attacking in the Modern Game after six months of implementing its small sided games and exercises then please contact us for a no quibbles refund.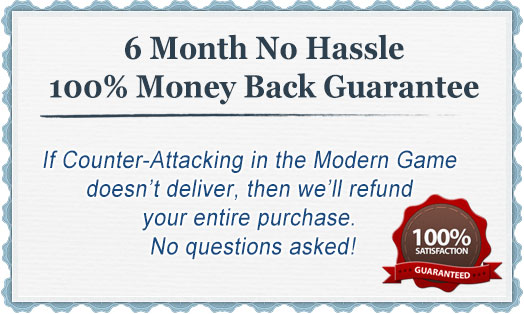 "If you are not pressing high and attacking quickly, you are falling behind the times"
Tactical counter pressing isn't a phase. It's a revolution.
Elite coaches have been using it to devastating effect since the start of the decade, and now you too can benefit from this innovative way of overcoming superior opponents. Packed with in-depth analyses of elite Bundesliga coaches and drills, Counter-Attacking in the Modern Game tells you everything you need to know on how to join the counter pressing revolution.
So if you'd like to approach every game with more confidence, knowing you have the tactics to beat more technically gifted opponents, Counter-Attacking in the Modern Game is the blueprint you've been looking for. After reading it you will feel as though you have Sun Tzu by your side, helping you to dominate games with the power of counter pressing and the edge to win more games.
Best Wishes,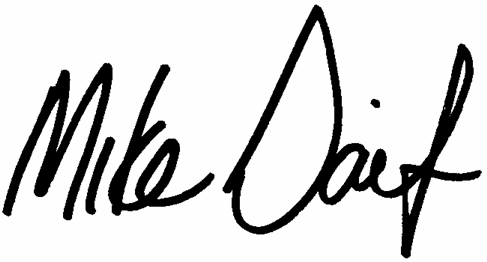 Mike Saif
President
P.S. Counter-Attacking in the Modern Game is a special guide to understanding how to join the counter pressing revolution. It provides the tactical insights, elite level tactics and high quality drills you need to create a Counter-Attacking side with the speed and efficiency of Germany's elite teams.
P.P.S If you are not 100% satisfied with the quality of the soccer coaching resources in Counter-Attacking in the Modern Game after six months then we will refund your purchase in full, no questions asked.