Discover how to create a solid defensive unit that will give your goalmouth an impregnability like Fort Knox 
Wow, the video series defensive coaches have been waiting for has arrived! In Coaching the Back Four – Zonal Defending you will discover a complete training session for creating a rock solid and highly disciplined backline. It reveals a complete set of progressive drills that will give your players the technique, mindset and tactics to ward off any attack, winning more games in the process.

Dear Coach,
Are you struggling to get your defenders playing as a unit? Do they keep chasing the ball like headless chickens, creating huge gaps for opponents to exploit with glee? If you're fed of seeing your goalkeeper picking the ball out of the net, this is a video series you have to see.
Coaching the Back Four – Zonal Defending gives you a virtual pitchside seat as Elmar Bolowich demonstrates how he has amassed incredible winning records from building rock solid defenses. One of the most winningest coaches at two college teams, Bolowich has trained and deployed hardened defensive units for over two decades, which create a near impenetrable wall in front of his goal.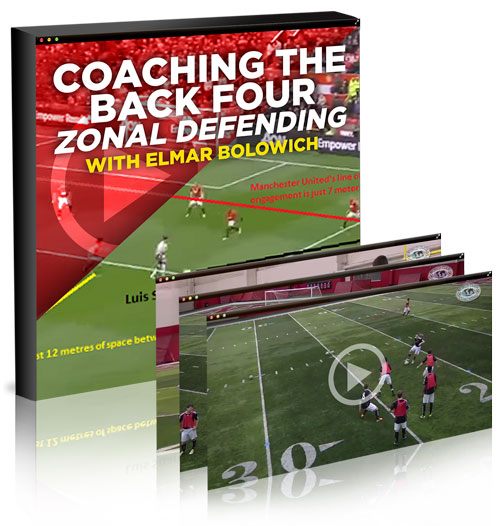 In Coaching the Back Four – Zonal Defending you can watch a complete training session led by Bolowich, in which he demonstrates how to get your defenders better organised, more technically advanced and ready to turn your goalmouth into an area as impregnable as Fort Knox.

"These videos covers everything, from the ideal defensive stance to key principles of tracking back, keeping defensive balance and much more"
Smart decision making is vital for effective defending. Your players have to know what to do and the best time to do it in a huge variety of scenarios. Should they trackback? Use high pressure to force a mistake? Or hold the line?
Coaching the Back Four – Zonal Defending provides all the answers you're looking for. Not only will you gain practical drills for building technique, but also priceless tips on the best tactics for smart defending. This includes how to 'step, slide and drop', how to hold the line, the ideal defensive stance and many more valuable tactics you can use to create the defensive base of a championship winning side of your own.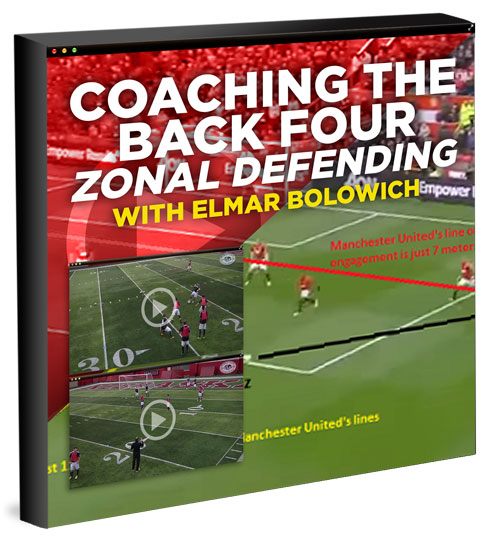 "Watch how Canada's U18 Men's Coach raises the competition and technical improvements from his players"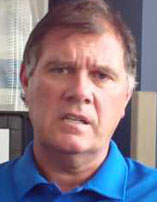 Elmar Bolowich is currently head coach at Creighton men's soccer, where he has led the Bluejays to two NCAA College Cup appearances in just three seasons. In 2014 Creighton reached the Elite Eight of the national championship, only losing on penalties in the final.
When he first joined Creighton in 2011, Bolowich masterminded one of the most successful single-seasons in program history. This included reaching the NCAA College Cup with a 21-2-1 record and winning three coaching honors:NSCAA Midwest Coach of the Year, the Missouri Valley Conference Coaching Staff of the Year and the MLSSoccer.com Coach of the Year.
Prior to Creighton, Bolowich coached at North Carolina College for 22 seasons, helping the Tar Heels to their first national title in 2001 and earning National Coach of the Year honors in the same season. He also guided UNC to 15 NCAA Tournament appearances, 20 NCAA Tournament wins and four College Cups. He remains the most winningest coach in UNC men's soccer history, with a 280-144-40 (.647) record during his 22 seasons in Chapel Hill.
Bolowich has also coached 14 individuals who earned a combined 21 NSCAA All-America honors, 28 ACC First-Team honors and five ACC Rookies of the Year. Twenty-one players who were coached by Bolowich at UNC played professionally in 2010, including 11 in Major League Soccer and three abroad.
What's covered in Coaching the Back Four – Zonal Defending

Coaching the Back Four – Zonal Defending is a three part video series featuring a complete training session led by Elmar Bolowich, a coach with an exceptional winning record at two college teams. In the session he reveals the drills, tactics and mindset he uses to create teams that concede few goals and regularly embark on huge tournament runs as a result.
Video 1 – The session begins with a simple 2v2 drill in 10×10 grids where players have to get the ball past a line without shooting or passing it across. This drill helps defenders practise against attackers holding onto possession, and to improve their communication and pressure. During the video, Bolowich outlines the ideal stance for defenders that avoids forcing them to pivot to chase the ball and how attackers can improve their overlapping runs
Video 2 – The next video focuses on pressure, cover and balance, and the principles of step, slide and drop when tracking attackers. Bolowich raises the pressure and challenge with a 3v3 drill. This puts pressure on defenders to make a fast recovery whenever they lose the ball and to maintain their shape when dropping back. Staying balanced and holding the line, rather than dropping deep too quickly, are keys to solid defending highlighted by Bolowich during the session.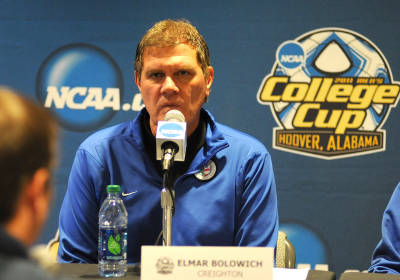 Bolowich at a College Cup press conference
Video 3 – The final video elevates the session again to a 6v6 drill in which the principles of step, slide and drop are even more pronounced. The increases in players means defenders have to be mindful of offsides when working with four defenders and two defensive midfielders. Bolowich highlights the importance of not stepping in too early or creating gaps to be exploited. These are just two of the tactics that Bolowich drills into players throughout the session to create a backline that knows how to react as a unit.

What you will gain from Coaching the Back Four – Zonal Defending 

Coaching the Back Four – Zonal Defending allows you to grab a virtual pitchside seat and watch how to create a solid defense that plays as a unit. Along with tactical positioning, Bolowich shares a huge number of priceless insights into the mindset and technique that will give your defenders the edge in blocking any attack.
From watching Coaching the Back Four – Zonal Defending, you will gain:
A complete progressive training session you can use to build a stronger, more disciplined defensive unit
Improved positioning against attackers trying to keep possession
How to communicate quickly for better teamwork
The best defensive stance that will avoid your players pivoting and chasing the ball
An enhanced understanding of the core principles of step, slide and drop
Faster recovery and better balance during sudden changes in possession
A back four that knows how to hold the line, and doesn't rush in too early
Fewer defensive gaps opposition teams can exploit
The increasing pressure of the drills will push your defenders to the limit, enabling them to accelerate their improvements
A stronger defense means fewer conceded goals and more wins on the scoresheet
The complete training session featured in Coaching the Back Four – Zonal Defending has helped Elmar Bolowich to amass amazing winning records at college level. However, the progressive increases in intensity mean that the session can also be used by elite coaches and even amatuer sides to gain vast defensive improvements that can help you replicate Bolowich's incredible cup runs.

100% 'no quibbles' 6 Month Money Back Guarantee
WORLD CLASS COACHING is recognized globally for the quality of its soccer coaching resources, which are used by over 40,000 soccer coaches from around the world.  We wouldn't be offering you Coaching the Back Four – Zonal Defending unless it achieves our exceptionally high standards. However, if you are not 100% satisfied with the quality of Coaching the Back Four – Zonal Defending after six months of implementing its drills and exercises then please contact us for a no quibbles refund.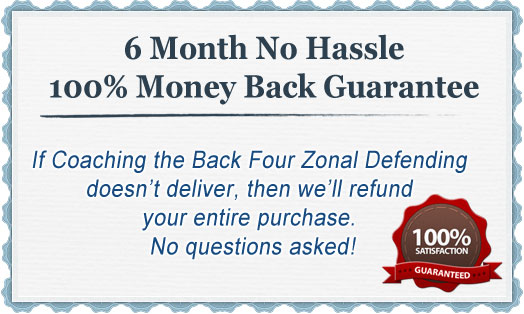 "Coaching the Back Four – Zonal Defending is a complete defensive blueprint in video form"
Even if the best form of defense is attack, it's still vital to have a solid backline the whole team can rely on. In fact, having a well drilled, confident and effective defensive unit gives midfielders the confidence to push forward and releases pressure on attackers to play at their best.
Coaching the Back Four – Zonal Defending shows you exactly how to build the system, skills and drills that will transform leaking backlines into a hardened wall opponents will struggle to find a way through. From practising its drills, your defenders will gain vast improvements in tracking, balance and shape, along with big gains in technique that will make a big difference to your defensive record.
Presented by a coach with exceptional winning records accumulated over more than two decades, Coaching the Back Four – Zonal Defending really is the ultimate defensive blueprint in video form.
Best Wishes,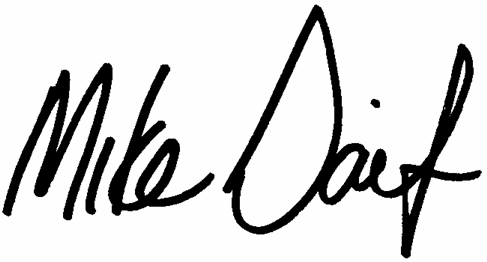 Mike Saif
President
P.S. Coaching the Back Four – Zonal Defending features a complete training session led by a coach with an incredible winning record at college level. This video series shows you how to create a hardened backline that's more technically advanced, tactically astute and drilled in how to protect your goalmouth from every attack.
P.P.S If you are not 100% satisfied with the quality of the soccer coaching resources in Coaching the Back Four – Zonal Defending six months then we will refund your purchase in full, no questions asked.
One last thing.  If you are an Elite Member, these videos are included so there is no need to purchase them here.  Just log in to the WCC TC and click the Video Library and do a Keyword search for "Bolowich".  If you are not an Elite Member, check it out here as you can have access to these videos and hundreds of others for one low price instead of paying separately for each set of videos.