Discover the secrets of how Anson Dorrance, one of US soccer's most legendary coaches, achieved a 93.4% winning average, won 22 out of 34 National Championships and led his team to win 92 games in a row 
Wow! If you want to learn from the greatest coach in US soccer, you've come to the right place. Anson Dorrance is one of the biggest names in US soccer coaching, with a staggering winning record that is unlikely to ever be beaten. In this

special 21 part video series

, Dorrance shows you the philosophy, training methods and drills he's used to create championship winning teams for more than 30 years.

(Includes a FREE companion eBook with easy-to-read
descriptions and diagrams of what is shown in the videos.)
Dear Coach,
When talking about the coaching achievements of Anson Dorrance there simply aren't enough superlatives in the dictionary. Some of his records include winning 92 games in a row and winning 22 of the 34 National Championships. In addition, he won the Women's World Cup at the first attempt and has won a prestigious list of coaching awards that cements his place as US soccer's greatest ever coach.
The North Carolina Way is a special series of 21 videos (almost 4 hours of footage) that gives you a virtual pitch side seat as Dorrance provides a masterclass in coaching. He details the philosophies, coaching experiences and training methods that have made the Tar Heels the most dominant team in US college soccer history.  Order and get instant access to all 21 videos.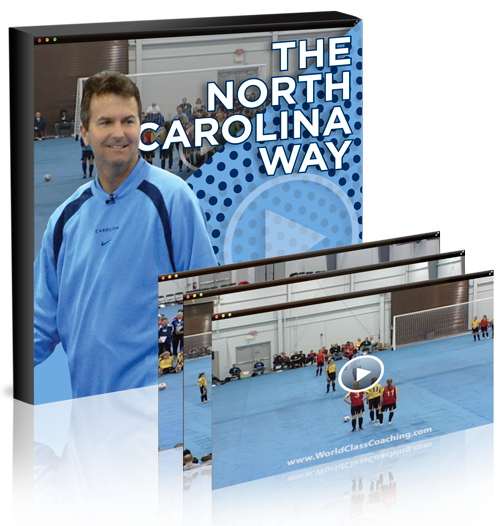 Divided into four sections, the videos cover drills for developing the 1v1 artist, attacking with speed drills inspired by Arsenal FC, German combinations and small-sided games and how to run a technical Olympics for quantifying the skills of your players and giving them the competitive fire to excel.
Watching The North Carolina Way series will enable you to discover the secrets of arguably US college soccer's most accomplished coach and insights you can use to take your own team on a 92 game winning streak.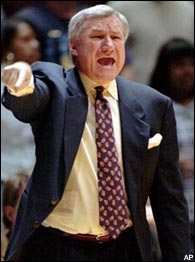 Legendary University of North Carolina Basketball coach, Dean Smith was asked by Football News about Carolina's preseason No. 1 ranking in football and what it was like for some sport other than basketball to be ranked No. 1.
Coach Smith's reply? "This is a women's soccer school. We're just trying to keep up with them." Coach Smith's clever retort was his way to give Anson Dorrance his due. From the person who was then the winningest head coach of all-time in one sport to the winningest head coach of all-time in another sport, the comment struck Dorrance as the ultimate honor. As Dorrance has said, "So much of what we have tried to do in our program is modeled after what Dean Smith has done and accomplished. To have our program compared favorably to his by the man himself is enormously humbling."

"Gain the inside secrets of soccer's most dominant program"
Along with his outstanding winning record, Dorrance is famed for his ability to coach his players to hunger for the competitive edge. This comes from what he calls his 'Competitive Cauldron', a scoring system through which players are graded every time they touch the ball in specific drills. That way Dorrance can build a report card for the season that holds players accountable for their performance.
Taking such an analytical approach to soccer is something Dorrance has spoken about worldwide, including speeches to leading coaches in England. Whether or not you agree that a player's ability can be judged based on a points system, there's no question that Dorrance's methods give his players a competitive fury in practice sessions and the ability to perform at the optimum level on game day.
Whether you coach recreational teams or players at the highest level, seeing how Dorrance harnesses his 'Competitve Cauldron' to boost performance can provide valuable lessons you can apply to your own training sessions to give your players the winning instinct and extra edge on game day.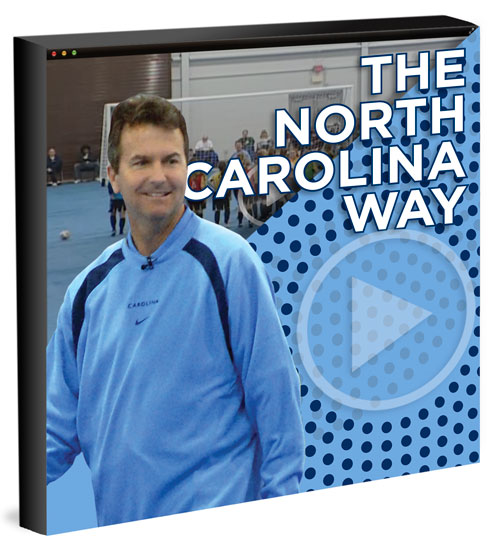 "Gain insights from a coach with a staggering winning record that is unlikely to ever be beaten"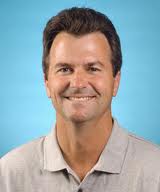 Anson Dorrance has been the head coach and mentor of the Tar Heels at the University of North Carolina for 33 years. Under his stewardship, the UNC has won 22 national championships, including 21 NCAA crowns and one AIAW title, which is more than any single sports program in AAC history, both in men's and women's soccer. In addition, only five times in 32 years have the Tar Heels lost more than two games in a single season. The records are simply staggering.
What's even more impressive is Dorrance's winning percentage that is unlikely to ever be beaten. Dorrance has won 93.4% of his games overall, and 96.8% of AAC Tournament games. These are simply fantasy stats but reflect Dorrance's exceptional talent at consistently building teams and molding them into championship winning sides that steamroller the opposition.
Prior to coaching, Dorrance was selected to the All-ACC Team three times as an undergraduate and won All-South Region honors in 1973. In fact, Dorrance's playing abilities are still respected to this day, as he was named one of the top 50 men's soccer players in Atlantic Coast Conference history in 2002.
After his playing career ended, Dorrance swiftly made the jump into coaching on the training pitches at UNC in 1976, which would become his home for the next 30 years. As the men's, coach Dorrance accumulated 172 wins and a .708 winning percentage over 12 years, making him Carolina's most successful men's soccer coach of all time.


In 1979 Dorrance also took on the mantle of being the coach of the newly incepted women's team, an appointment that would lead to the generation of some of the most impressive records in US soccer history. Over the next 33 years, the Tar Heels won 21 of the 30 national championships ever decided (70%) in the history of collegiate women's soccer. Only two other schools have won as many as two titles, Portland and Notre Dame. All told, the Tar Heels have racked up a 715-39-24 record over 32 years, earning an incredible winning percentage of .934.
In 1986 Dorrance was given the highly esteemed role of coaching the US Women's National Team. Through harnessing the philosophies, training methods and tactics honed with the Tar Heels, Dorrance's side swiftly progressed to the final in the first ever women's World Cup in 1991 where they beat Norway in the final to be crowned the first ever women's soccer world champions. After winning the Women's World Cup, Dorrance decided to focus on his first love of coaching the Tar Heels and leading them to many more championship wins.
Over the years Dorrance has coached and developed National Team players like Mia Hamm, Kristine Lilly, Cindy Parlow, Heather O'Reilly, Cat Reddick, Lindsay Tarpley just to name a few.
In addition to his numerous league and cup titles, Dorrance has been named coach of the year 7 times and AAC Women's Soccer Coach of the Year 10 times. In 1996 he won the highest honor possible from the National Soccer Coaches Association of America, the Walt Chyzowych Award for lifetime coaching. Eleven years later in 2007, Dorrance was awarded the Bill Jeffrey Award from the NSCAA for his long-term dedication to raising intercollegiate soccer to new heights and in recognition of his place in US soccer folklore.
What's covered in The North Carolina Way 21 Part Video Series 

The North Carolina Way video set comprises of 21 videos divided between developing the 1v1 artist, attacking with speed, German combination play and technique Olympics. Filmed in front of a live audience, in each video Dorrance explains the philosophies, training methods and drills he utilizes to train his UNC teams to gain such a decisive competitive edge over their rivals.
Developing the 1v1 Artist – 5 videos
Dorrance runs through a series of 1v1 drills which he considers to be the foundation of the game and the best investment of the coach's time. The drills are designed to develop the skill, mentality and competitive fire players will need to beat opponents, one on one, in real game situations.
The drills include receiving flighted balls before beating the opposition and Dorrance's patented 'Bogeys in the Sky' training drill. This harnesses progressive levels of difficulty and record keeping, and is one of Dorrance's best tools for identifying his most valuable players and developing their ability to excel under pressure.
Attacking with Speed – 6 videos
Dorrance is a keen admirer of Arsenal's Arsene Wenger and the attacking playing style he infuses into his teams. Many of the drills in these videos are those utilized by Arsenal to keep the ball moving up the pitch with speed. This includes drills for improving passing and movement, dragging the ball laterally around defenders, flick passes into space and how to beat closing defenders.
Along with the technical skills, Dorrance explains how these drills will develop the tactical awareness and decision making players need to always keep the ball moving forwards.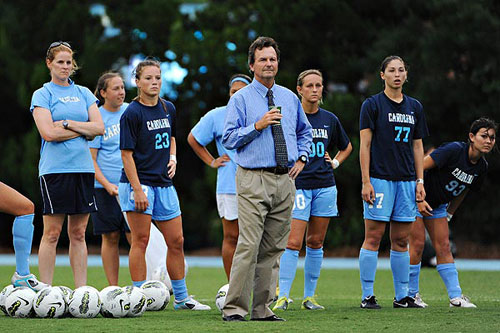 Coaching legend Anson Dorrance on the training field with his UNC Tar Heels
German Combinations and SSG – 4 videos
In this section Dorrance explains the fundamentals of using 5v2 mini games to improve ball control, movement off the ball, maintain possession and decision making. In addition, the drills harness playmakers to change the focus of attacks and develop the players' understanding of when to use one or two touches on the ball.
A key part of Dorrance's training philosophy is to develop the competitive edge in his players. He achieves this through dividing small games between his front seven and the 'brick masons' in defense who are encouraged to improve so they can play with the superior group. In these videos, Dorrance explains his philosophy behind this controversial approach and why coaches should consider implementing his 'Competitive Cauldron' in their own training sessions.
 Technique Olympics – 6 videos
Dorrance is a passionate believer in the importance of quantifying performance to stimulate competition. This includes a fitness test players must pass at the start of the season if they want to be deemed worthy to play for the Tar Heels.
In this series of videos, Dorrance explains how to improve and measure technique with drills which include receiving the ball in the air, a dribbling drill learned from George Best and two touch passing with speed. In addition, Dorrance shares his research into what defines an elite player and explains his tests for measuring technique.

What you will gain from The North Carolina Way 21 Part Video Series

No other coach can boast of a winning percentage of 0.934. His methods and philosophy might be controversial, but nobody can deny the results Dorrance has gained on the soccer pitch. His players are imbued with a winning mentality that has seen his teams win 92 games in a row, with the Tar Heels women's team winning 21 of 30 championships in the history of collegiate women's soccer. So when Dorrance talks, you listen.
From The North Carolina Way you will gain:
A virtual pitch side seat as you watch Dorrance, one of the most legendary coaches in US soccer, demonstrate the philosophies, drills and training methods he uses to consistently create championship winning teams
Exercises and guidance on how to develop the 1v1 artist and the winning mentality for winning the confrontations that arise during a game
Drills and small sided game for replicating Arsenal's speed of play and always moving forward mentality
Technical drills for honing and improving the technical abilities of your players
A guide to how Dorrance utilizes combination play and small sided games modeled on the training of German Bundesliga teams to improve the passing and mental agility of his players
How to create a 'Competition Cauldron' on the training pitch that gives players an aggressive edge and will to win
Insights on what defines an elite player and how to measure technical ability
Watching Dorrance in action is an education you simply cannot gain from reading a coaching manual. You will be able to see his coaching methods performed before your eyes, which have created some of the most successful teams in US soccer history. His philosophy on measuring technique, encouraging competitiveness between players and molding elite players can offer valuable insights to any coach, whether you coach recreational sides or teams at the highest level.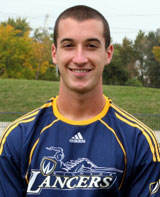 "These videos are am incredible tool for any coach looking to improve his/her players skill set.  Speed of play, confidence on the ball, and combination play are all touched upon in this video set. Dorrance gives you everything you need to be able to run a perfect session from grid sizes to coaching points. Overall these videos have been a great help when running my own training sessions."  Phil Danelon, ON Tecumseh Soccer club, senior level coaching license.

And get this FREE eBook with your 21 videos

Some coaches prefer books and some prefer videos for their coaching material. We will give you both. We have created an eBook showing all the drills and exercises in the videos and it's your FREE when you order the North Carolina Way 21 part video series. So now you can look at a written description and easy-to-read diagrams while you follow along with the videos.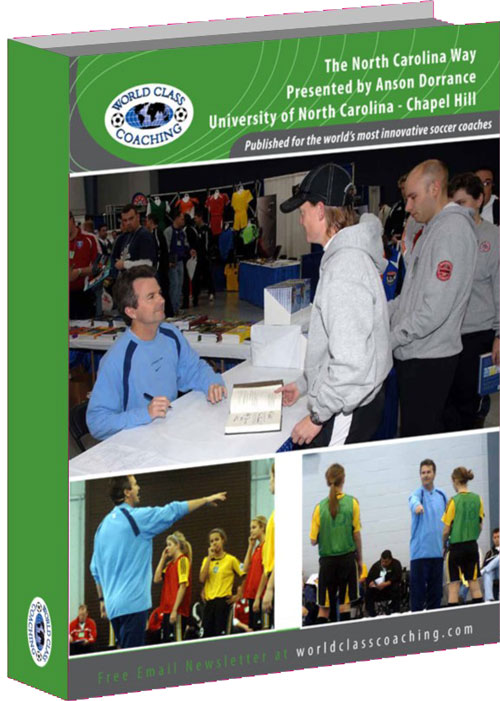 100% 'no quibbles' 6 Month Money Back Guarantee
WORLD CLASS COACHING is recognized globally for the quality of its soccer coaching resources, which are used by over 40,000 soccer coaches from around the world. The North Carolina Way  unless it achieves our exceptionally high standards. However, if you are not 100% satisfied with the quality of The North Carolina Way  after six months of implementing its small sided games and exercises then please contact us for a no quibbles refund.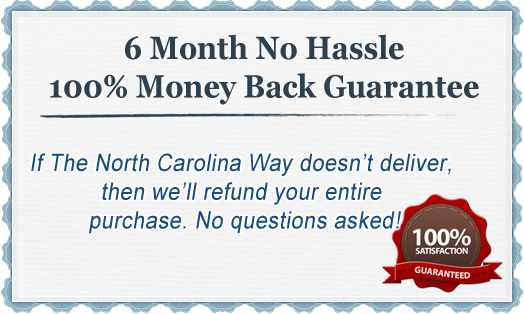 "Dorrance has amassed a staggering record that may never be reached again"
It's often said before a big game against superior opposition that it's still 11 against 11. This is a difficult speech to make when your team is about to face one of Dorrance's sides. Their exceptional competitiveness, technical expertise and will to win has helped them to win 93.4% of their games and 22 out of 34 National Championships. And let's not forget that Dorrance also won the Women's World Cup at his first attempt.
In this special series of 21 videos, Dorrace shares the training drills and philosophies that have enabled him to become one of the most successful soccer coaches of all time. The North Carolina Way enables you to sit back and watch from your virtual seat as one Dorrance reveals the secrets you can harness to turn your own players into a championship winning team.
Best Wishes,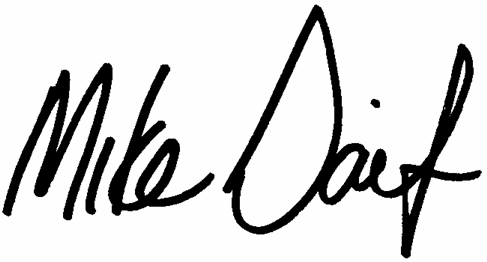 Mike Saif
President
P.S. The North Carolina Way is a series of 21 videos featuring live coaching sessions with Anson Dorrance, one of the most legendary names in US soccer. His women's collegiate sides have amassed some of the most incredible records in US soccer history, including 92 wins in a row and winning 22 of the 34 national championships they have entered. His philosophy and training methods can provide valuable insights to any coach on how to develop a championship winning side.
P.P.S If you are not 100% satisfied with the quality of the soccer coaching resources in the The North Carolina Way series after six months then we will refund your purchase in full, no questions asked.