Get Your Players Competing Head to Head in Training and Watch the Improvements in Technique Rocket 
Featuring Canadian U18 Men's National Team Coach, Rob Gale. Coaching Technique with Competitive Drills is a video series that shows you how to run a training session that will send your players chasing each other's heels and piling on the pressure to raise their game. The drills will send pulses racing, the intensity sky-high and will give you bigger technical gains in every session.

Dear Coach,
Players crave competition. They know that it's only through being pushed to perform at their best that their technique, soccer brain and all round performance will improve. Raising the tempo in training and adding pressure is a surefire way of giving them the sense of competition they need.
Coaching Technique with Competitive Drills is a video series that shows you how to run a complete training session that will get your players challenging each other for every ball and competing to see who's the best. This enables you to create game like pressure in training and force players to raise their game unless they want to find themselves sat on the sideline.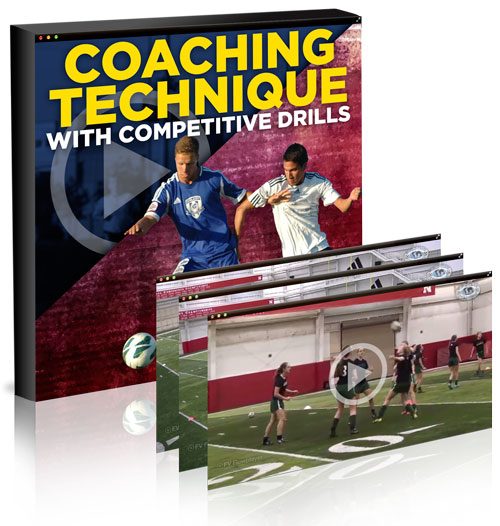 So if your training sessions are missing that spark, and your players aren't being pushed enough, Coaching Technique with Competitive Drills shows you how to raise the intensity and gain bigger technical improvements from the power of competition.

"These drills are perfect for identifying a player's weaknesses and where to make improvements"
Every coach dreads signing a dud to their team. But traditional tryouts often don't give you enough variety to reveal a player's weaknesses. This is one of the big benefits of the training session featured in Coaching Technique with Competitive Drills.
It covers a wide variety of skills and attributes, including decision making, change of pace and heart. You can see how hard players compete, how well they control the ball and how they respond when the going gets tough. In fact, the entire session is perfect for holding try out sessions so you can put new recruits through their paces and see deserving of a spot on your team or need to work more on a particular skill.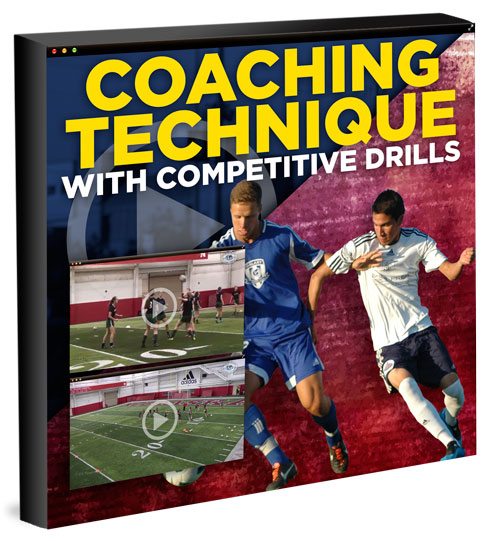 With an abundance of progressions, options and ways of increasing the pressure, Coaching Technique with Competitive Drills allows you to push your players to the limits to see what they're made of.

"Watch how Canada's U18 Men's Coach raises the competition and technical improvements from his players"
Canadian U18 Men's National Team Head Coach, Rob Gale has been involved in soccer at the highest levels since he was 14 years of age, when he signed as an associate schoolboy with Fulham Football Club. He continued training with the Wycombe Wanderers, where he first took an interest in coaching under the tutelage of Alan Smith.
Rob went on to play in the USA and Canada representing at the club national championships and winning Most Valuable Player awards provincially and at national competitions. He has coaching licenses from the UK (UEFA), the United States, and Canada where he obtained his National A license in 2006. Rob has coached at the professional academy level and in professional community programs.
Rob's philosophy of hard work and enthusiasm, plus his player centered approach to development, has transformed our provincial teams programs. In the 20 years before Rob began working with the Association, only 2 players went on to the international stage. In the 5 years since Rob began, he has led 17 players to represent Canada internationally. Countless more are now playing university soccer in Canada and the US on scholarships, having graduated through the RTC/NTC Programs.
Rob is also the author of The Complete Guide to Coaching Advanced Players and The Coach's Guide to Position Specific Training.
What's covered in Coaching Technique with Competitive Drills

Coaching Technique with Competitive Drills features a complete training session led by Canadian Men's National U18 coach, Rob Gale. Split into four parts, each video features different stages and types of drills for running highly competitive training sessions:
Video One
The session begins with two players dribbling around a grid with the aim of catching and eliminating the player in front of them. This first drill challenges players to master quick touches, acceleration and ball control to be successful.
The drill is developed with direction changes, additional defenders and runs through the middle to score points. You can then see how well players react to pressure.
Video Two
Players are now put into teams and asked to complete 20 quick passes. They then move grids with the aim of eliminating the team in front of them. The drill is progressed with ball juggling and extra rules that increase the challenge. Players are then put into mini possession games with stipulations progressively added.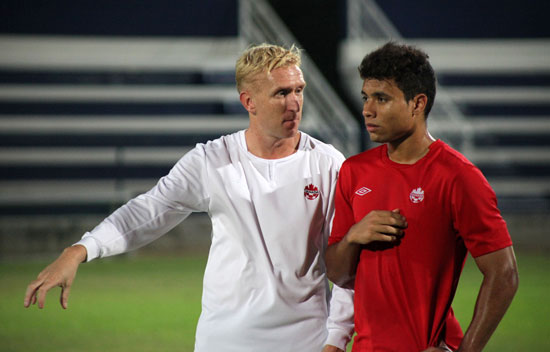 Rob Gale instructs one of his players

Video Three
Players are now put into direct competition racing between cones in a drill you might recognize as the 'Shake and Bake' body swerve. A ball is then added to see how well they can lose the other player with a ball at their feet.
Video Four
The session ends with a small sided game. Three teams are used with the losers forced to wait it out on the sidelines. Progressions include goals only being allowed to be scored inside the area and with one touch. This final drill will reveal which players want the ball whatever the risk and which ones disappear out of fear.

What you will gain from Coaching Technique with Competitive Drills 

Players love to be pushed in training so they can be challenged to improve and play at their best. Coaching Technique with Competitive Drills shows you how to do it by allowing your players to increase the pressure and intensity for you.
From watching Coaching Technique with Competitive Drills you will gain:
An entire training session, from start to finish
Drills that put players head to head and fighting for every ball
Greater enthusiasm in training
Accelerated technical improvements
Multiple progressions which allow you to adjust each drill to suit skill level and training goals
Drills that involve all the players at once, and not wasting time in lines
A great physical workout with the ball at their feet
Multiple techniques, including dribbling, first touch and tackling, all covered 
Drills that allow you to clearly see the strengths and weaknesses of your players
The perfect tryout session for new recruits
While the training session is designed for 8-18 year olds, senior and professional players can benefit from going head to head and being forced to raise their game in training. Your players are pushed to perform throughout, and the intensity will naturally lead to big improvements in technique in multiple areas.

100% 'no quibbles' 6 Month Money Back Guarantee
WORLD CLASS COACHING is recognized globally for the quality of its soccer coaching resources, which are used by over 40,000 soccer coaches from around the world.  We wouldn't be offering you Coaching Technique with Competitive Drills unless it achieves our exceptionally high standards. However, if you are not 100% satisfied with the quality of Coaching Technique with Competitive Drills after six months of implementing its drills and exercises then please contact us for a no quibbles refund.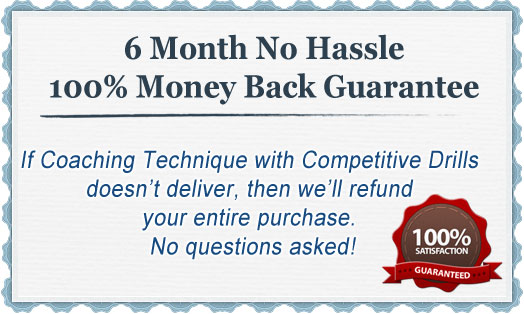 "Your players will be exhausted after every session, but delighted with their technical improvements"
Getting players to push themselves in training can be a challenge. It can be difficult to get them motivated and playing with the intensity that will raise their performance and create technical improvements. Coaching Technique with Competitive Drills is the shot of adrenaline that can fix this.
It shows you how to run a session that will force players to perform at their highest level, and not be shown up as the weak link in the team. No player wants to be eliminated by their team mates or beaten to the ball, knowing that a wait on the sidelines could soon follow. Instead, the drills in this video series will challenge every player to justify their spot on the teamsheet.
So if you want to gain bigger technical improvements from more intense training sessions, Coaching Technique with Competitive Drills is a video series you need to add to your coaching library.
Best Wishes,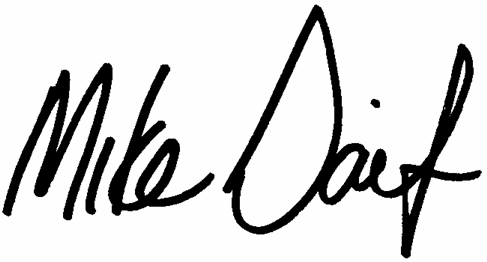 Mike Saif
President
P.S. Coaching Technique with Competitive Drills is a special video series on how to run sessions that put players in head to head competition. Starting simple and gradually increasing in intensity, the session is perfect as a tryout session and for revealing the technical ability, soccer brains and the heart of your players.
P.P.S If you are not 100% satisfied with the quality of the soccer coaching resources in Coaching Technique with Competitive Drills six months then we will refund your purchase in full, no questions asked.
One last thing.  If you are an Elite Member, these videos are included so there is no need to purchase them here.  Just log in to the WCC TC and click the Video Library and do a Keyword search for "Gale".  If you are not an Elite Member, check it out here as you can have access to these videos and hundreds of others for one low price instead of paying separately for each set of videos.