Learn how to create a winning team attitude, from the winningest coach in U.S. history

Terry Michler is regarded as the 'most winningest' coach in US soccer history. In 39 seasons with the CBC High School he has won over 800 games, 6 state championships and 6 runner up trophies, along with being named the NSCAA's National Coach of the Year. His long-term success comes from the winning mentality he drills into his teams year after year. Just imagine if you could instill this mindset in your workplace team and employees?

Dear Coach,
Business consultant Dan Coughlin spent four months studying the coaching approaches of Terry Michler, America's all-time winningest soccer coach and a practitioner of the Dutch Coaching Methods. He wanted to uncover Michler's methods for creating extraordinary group performances year after year. In 39 seasons Terry Michler's CBC High School soccer team has won over 800 games, six state championships, and six state runner-up trophies. He has been named National Coach of the Year by the NSCAA.
Terry Michler's coaching approaches are based in large part on the Dutch coaching methods, which he learned from his nine trips to Holland.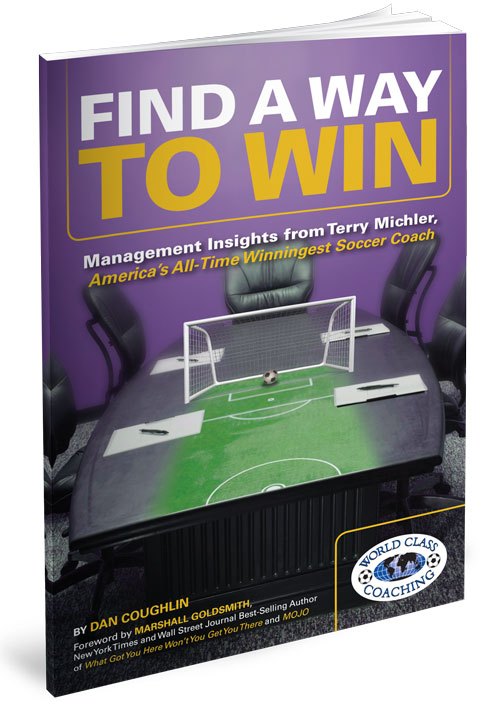 Coughlin interviewed Terry Michler's former players, opposing coaches, assistant coach, mentors from Holland, and proteges to increase his understanding of Michler's proven approach to building championship teams. Coughlin then converted Terry Michler's ideas into management insights for improving group performances for soccer teams, other sports teams and in businesses.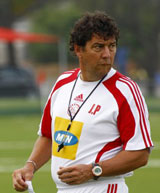 "Find a Way to Win" is packed with winning strategies that have worked for Terry Michler in soccer and will serve as a compass for coaches of any sport or even business managers who dream of building first-class businesses. I know Terry well, and I know this book will give every reader value in which way to go. Study it carefully!" – Jan Pruijn, Head of Technical, AJAX Capetown, Director, Soccer Active


"A unique study of the people management methods of soccer's most winningest coach Terry Michler"
Find a Way to Win is packed with insights, practical methods and ideas business leaders and coaches alike can use to improve the performance of their team. With an incredible winning record over 39 seasons that may never be beaten, there are few better coaches to learn from than Terry Michler.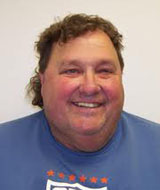 Since ending his playing career with the Kansas City Spurs, where he won the North American Soccer league Championship in 1969, Michler has been the soccer coach at the Christian Brothers College (CBC), Missouri. Over 39 seasons, Michler has accumulated the most winningest record in high school coaching history, amassing 24 District Championships, 16 Final Four appearances, 12 State Final appearances, 6 State Championships and 10 times national rankings.
In addition, Michler has been instrumental in helping 32 of his players to become pros, 8 of which have played nationally, 18 have become High School All-Americans and 283 have played collegiate soccer. So it's clear that Michler has an amazing talent for getting the best performance out of every player he coaches and empowering them to achieve their full potential.
Considering all the awards, plaudits and trophies, whether you are a CEO, sales manager, executive director or a youth team coach, there are many lessons you can learn about people management and improving team performance from Terry Michler, which are all explored in Find a Way to Win.
What's covered in Find a Way to Win

Find a Way to Win comprises of interviews between Coughlin and Michler based around the core periods in a soccer season. These periods all require different strategies and styles of management, with the success in each vital to ensure a successful season. In each chapter Coughlin summaries the management insights that can be gleaned from Michler's coaching style and the discussions they have on soccer coaching.
1.    State Champions
The book starts with Coughlin regaling the time he took his 8 year old son to see the CBC Cadets play and how it was the single finest display of soccer he had ever seen, even surpassing the performance of many professional teams. Coughlin was immediately intrigued as to how Michler was able to instill such discipline, teamwork and winning attitude in his young players. A few emails later and the decision to write a book on Michler's management style was born.
2.    Team Banquet  
The end of season team banquet is an opportunity to recognize great individual and group success. In this chapter Michler explains the importance of CBC's 'extended family' – the parents and relatives of both current and previous players – to the team's success. He also discusses the importance of having an honest and sensitive end of season assessment to make players feel proud of their achievements and contribution.
3.    Off Season
The off season is a chance to re-energize, to hone individual skills and to prepare for upcoming seasons (or projects). In this chapter Michler discusses how he uses the off season to recover when things didn't go so well the previous season, particularly managing egos and instilling mental toughness. Coughlin analyses the links between soccer intelligence and business intelligence, with nine points teams need to remember to recover from losses.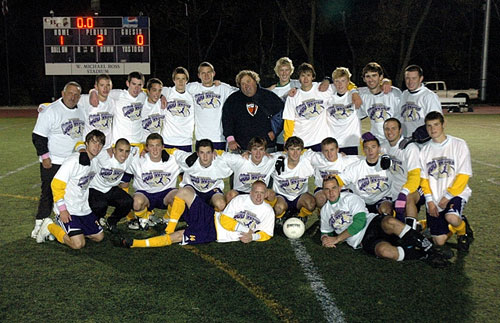 CBC High School celebrate Coach, Terry Michler's 800th win
4.    Preseason
Much like how a team prepares for its new season, there are steps every business leader has to take to prepare for a new project, initiative or client. Michler discusses the questions you need to ask yourself when preparing your team, such as how to get the balance right between those with technical skills and those with the most potential, how you will help team members get over their personal weaknesses and how to set standards for behavior and performance. These are all questions as equally valid in a business setting for getting the best performance from your team.
5.    Regular Season
Whether on the training pitch or in the office, every day there is an opportunity for improvement. In this chapter Michler discusses how to develop problem solvers into leaders able to think and act for themselves. The fact that Michler is able to do this successfully with children proves that it can be successfully done with any team. Teaching employees to become problem solvers and to think for themselves is a valuable skill now that workplaces are increasingly fragmenting into group style management rather than hierarchical.
6.    Regular Season Tournaments
There are often times when you need to find ways of raising the level of performance. Michler explains how this can be achieved without encouraging the risks of arrogance and an over confidence that can be self defeating. Instead, he discusses how to find players that flourish under pressure and to use them in key roles to raise the performance bar.
7.    State Tournament
A high pressure knockout tournament is the single greatest test a soccer team faces. In this chapter Coughlin interviews some of Michler's opposition coaches on what they learned from him about preparing teams to perform like athletes and not just soccer players. This includes Mike Gauvain who also discusses how he was able to apply the lessons he learned from coaching soccer to his own pizza business. Michler provides five critical business building ideas based on his soccer coaching experience.

What you will gain from Find a Way to Win

Find a Way to Win combines the minds of a leading business management consultant with soccer's most winningest coach. The result is an extensive collection of fascinating insights into team management techniques that are equally as effective in the workplace as they are on the soccer pitch. Coughlin highlights the management insights in every chapter to provide valuable lessons on how to mirror the extraordinary performances Michler is able to get from his teams.
Some of the insights in Find a Way to Win include:
How to reinforce to teams what it takes to make reality a success
The importance of a shared team vision
How to recognize and make your team members feel good about their contributions towards team success
Discover how to manage meetings in a more constructive way when results haven't been as you'd hoped.
To encourage employees to surround themselves with positive influences
How to instill the notion of an 'off season' between projects for employees to hone their personal skills and to prepare for the next big project
How to teach employees to become problem solvers and able to think and act on their own initiative
How to develop roles and responsibilities for your team members
Identify and utilize your star performers so they are able to inspire and influence team performance to the maximum extent
The importance of preparing your team for the next project, initiative or client. This includes getting the right balance of skills in your team, how to help members to improve and to support those with potential to be top performers
How to set expectations of behavior and performance so everyone is on the same page
How to utilize employees that flourish under pressure at times when you have to raise team performance
The importance of thinking about who will be your top performers in three years and able to develop them.
With a track record of over 800 wins over 39 seasons, Terry Michler is a soccer coach everyone can learn from, whether you coach youth teams or players at an elite level. Find a Way to Win provides unique insights all coaches and business leaders can learn from on managing teams through many different phases so they can perform at their best.

100% 'no quibbles' 6 Month Money Back Guarantee
WORLD CLASS COACHING is recognized globally for the quality of its soccer coaching resources, which are used by over 40,000 soccer coaches from around the world. Find a Way to Win unless it achieves our exceptionally high standards. However, if you are not 100% satisfied with the quality of Find a Way to Win after six months of implementing its small-sided games and exercises then please contact us for a no quibbles refund.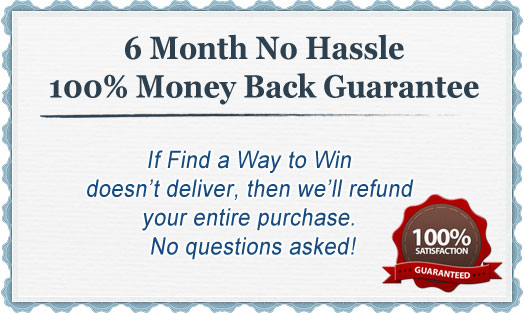 "Find a Way to Win is packed with priceless insights that can help every coach, at any level, business executive or CEO to replicate the extraordinary performance of Terry Michler's teams"
The accumulation of five months research and interviews with over two dozen people, Find a Way to Win provides a unique assessment of the leadership skills that can be transitioned from the soccer pitch and into the workplace. In this special book, Coughlin provides the blueprint for achieving the incredible success with teams that Michler has achieved over his 39 year coaching career. This includes how to respond to failure, how to prepare for success and how to gel your employees together into a team that's ready to excel under pressure and to achieve extraordinary team performance.
Whether you are a soccer coach, a business executive or CEO, there are numerous priceless insights you can gain from Find a Way to Win on getting the best out of people. This unique book seeks to uncover the secret to achieving incredible group performance that can propel any team to new heights..
Best Wishes,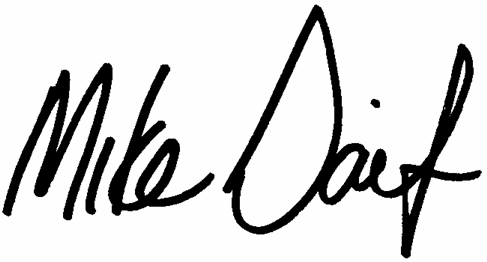 Mike Saif
President
P.S.  Find a Way to Win provides a unique insight into the coaching and player management style of soccer's most winningest coach Terry Michler. Based on five months of research and interviews with over two dozen people, this special book can help soccer coaches and business leaders alike to improve their team management skills and to attain extraordinary group performance.
P.P.S If you are not 100% satisfied with the quality of the soccer coaching resources in Find a Way to Win after six months then we will refund your purchase in full, no questions asked.