The BIGGEST Compilation of Drills We've EVER Seen has Arrived! Get OVER 600 Drills and Exercises in the Huge Smedley's Drills!
Wow, this is huge! Smedley's Drills is a four volume set loaded with page after page of custom designed drills. Everything is covered, whether it's fast paced dribbling, passing shapes, finishing accuracy or even goalkeeping. With nearly 700 pages and over 600 drills, this is the ONLY coaching guide you may ever need!
Dear Coach,
Keeping players motivated is never easy. They get bored fast, particularly if you're setting up the same drills they've done before. So it's vital to have fresh drills each and every week to keep enthusiasm high and to create challenging sessions that create big improvements.
Smedley (or Don Herlan to give him his real name) has devised, honed and recorded a personal collection of over 600 drills and training exercises. Better yet, he's agreed to share them with you. Spread across four volumes, Smedley's Drills covers everything, from goalkeeping to dribbling to possession to small sided games and more.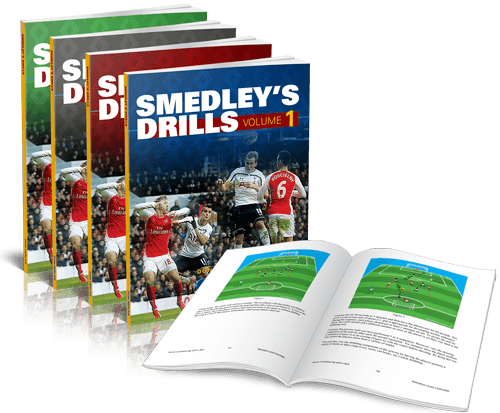 You get a huge volume of drills and massive money savings at the same time. So why not explode the size of your coaching library and get the vast Smedley's Drills collection today.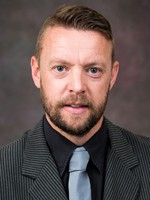 "Don Herlan has put years of soccer experience into a format that is both well organized and insightful.  This book does a great job of simplifying "coaching" with easy to understand sessions and templates. Whether you are a novice coach or experienced professional "Smedleys Drills" can be very useful to assist in your soccer development."  Jon Atkinson, Head Coach, Men's Soccer, Longwood University

Several decades of soccer drills in one vast collection

Smedley's Drills is the author's life's work and passion. Don Herlan first started his collection with paper and pen, before upgrading to computer design software. His first program came on a floppy disk – that's how long he's been creating drills for!
Since then Herlan has progressed to using WORLD CLASS COACHING's very own Session Designer to create his drills, with plans that are quick to create and easy to understand. What's more, every drill comes complete with setup instructions, procedures for running the drill, coaching points, teaching tips and progressions for raising the challenge for players.
It would be understandable if Herlan wanted to keep his personal collection private. But Herlan is a true lover of the game, and generously agreed to share his entire collection of drills and exercises with his fellow coaches, so they can create more varied and productive sessions. In Smedley's Drills you get everything you need to quickly and easily create new training plans, with no two sessions need ever be the same again.
Here is an example of what you will find on over 600 pages of Smedley's Drills.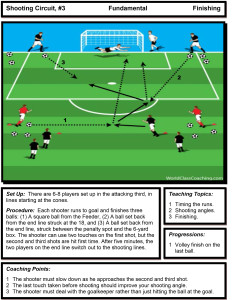 Example of one of the 600 pages of drills

A vast collection created by a truly passionate coach with vast grassroots experience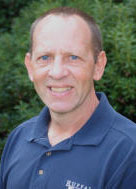 Smedley's Drills has been created based on the several decades of coaching experience of its author, Don Herlan, at college and university level.
As with many coaches, Herlan's career began as a player. He was a first team All-Conference player for Kenmore West High School, and played for four seasons at SUNY Geneseo, a Division III program in Western New York state. In his final senior year, Herlan was appointed team captain, winning the Outstanding Senior Award in 1981 in the process.
After hanging up his boots, Herlan jumped straight into coaching. His first role was Assistant Coach at the University of Buffalo, where he was instrumental in elevating the women's team from Division III to Division I. This included a peak ranking of fifth in the country while in Division II.
Herlan's next move was to coach both the Men's and Women's teams at Buffalo State College. He then moved to become Assistant Coach and specialist goalkeeping coach of Men's soccer at Longwood University in a Division I program in the Big South Conference. While at Longwood, Herlan was also a lecturer in the Department of Health, Athletic Training, Recreation and Kinesiology from 2005-2012.
Herlan holds a Bachelor's in Management Science, a Bachelor's in Exercise Science and a Master's in Exercise Physiology. His coaching qualifications include a USSF 'C' License and he is a fully enrolled member of the NSCAA.

What's covered in Smedley's Drills Volumes 1, 2, 3 & 4

A more sensible subtitle would be 'what's not covered?' Smedley's Drills is so vast that there simply isn't any skill, type of drill or style of play not covered multiple times.
Smedley's Drills is divided into four vast volumes, running at around 170 pages each.
Volume I – A big focus on the fundamentals with drills for goalkeeping, dribbling, timing runs, finishing and more that will give your players strong foundations in the key skills. This volume also contains extensive passing drills, combination and patterns of play and small sided drills, including both drills in the penalty area and small sided game.
Volume II – This volume includes a good mix of drills, including exercises for improving dribbling, heading and finishing. Along with small sided drills and exercises, you'll also find large side drills and large sided games for putting it all together.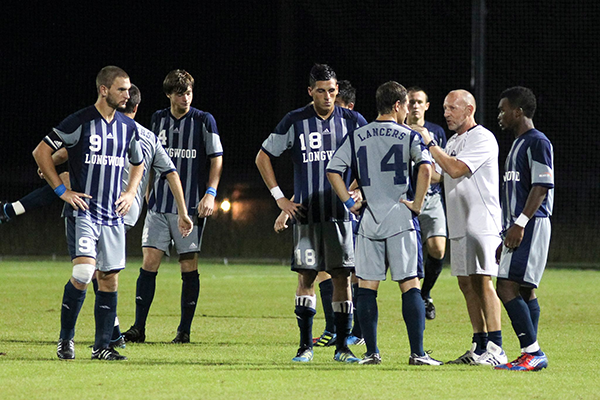 Author, Don Herlan at a half time team talk
Volume III – The third collection is a bit more specialized, with drills for keeper distribution, checking runs, overlapping sequences, 2v2 drills for blocking turns and more. As with the other volumes, this book features both small and large sided games, with the author's own unique tweaks.
Volume IV – Some of the drills in the final volume include sharks and minnows, first touch drill finishes, layoff and turn and pass patterns and three shots finishing. As in the other volumes, these are all custom designed drills you won't find in any other collection and can make every session more challenging and motivating for your players.

"A fantastic resource for coaches to use again and again. The book offers multiple drills on every important topic in soccer. The diagrams are clear and simple to understand. Definitely a book for all of our club coaches to utilize" Martin Vickerton, Director of Coaching, Tidewater Sharks Soccer Club, VA
What you will gain from Smedley's Drills Volume 1, 2, 3 & 4

The entire four volume set of Smedley's Drills contains over 600 drills and exercises. With so many to choose from, you need never buy another collection again, saving you a lot of money. But the best thing is that you will never, ever, be short of ideas on the training field.
Along with huge money savings, Smedley's Drills offers benefits for your team all over the pitch:
Goalkeeping drills designed by a specialist goalkeeping coach that will improve your keeper's shot stopping, distribution and movement
Improved dribbling from drills such as heavy traffic, sharks and minnows and first touch drills
Extensive passing drills that will improve first touch, turning and passing movements. This in turn means more possession
Smedley's Drills is packed with innovative finishing drills, such as finishing race, shooting shuttle and three shots finishing
Overlapping runs, first touch passes and layoffs will all improve thanks to the extensive combination play drills and exercises
A large number of drills focused around the penalty area
Unique small and large sided games your players will love and also have their special twist for giving players that extra challenge at the end of sessions
As you can see, the complete collection of over 600 drills can improve your team in every area of the pitch. Your players will love the variety and the challenge of never knowing what drill is coming next. What's more, while the drills are designed for a college and university level, the progressions make them suitable for players at a more advanced level too.

And get this FREE eBook with your purchase

Believe it or not, we had another 70 drills that we just didn't have space for in the four volumes, but we didn't want to waste them.  And they are not "leftovers" either.  These 70 additional drills are the very same high quality drills that are in Volumes 1, 2, 3 & 4 but we didn't have enough for a Volume 5.  So rather than waste them we have put them together in an eBook and they are absolutely free when you order Smedley's Drills.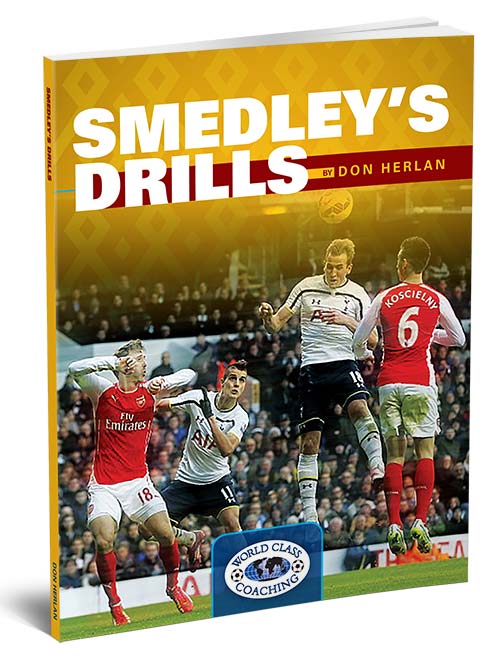 100% 'no quibbles' 6 Month Money Back Guarantee
WORLD CLASS COACHING is recognized globally for the quality of its soccer coaching resources, which are used by over 40,000 soccer coaches from around the world. We wouldn't be offering Smedley's Drills unless it achieves our exceptionally high standards. However, if you are not 100% satisfied with the quality of the Smedley's Drills after six months of implementing its soccer drills and exercises then please contact us for a no quibbles refund.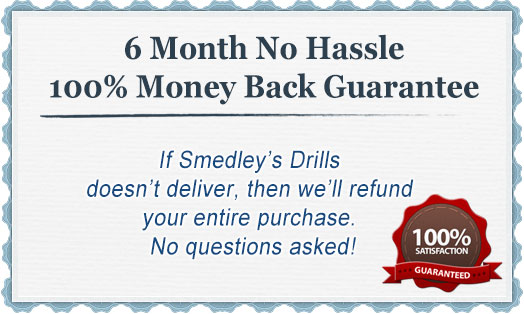 "You get over 700 pages of drills and that's will last you decades"

Players love to be challenged. They want to be kept on their toes and practicing new drills that get them out of their comfort zone. No player wants to run through the same drills, week after week.
If you pick up the complete four volume series of Smedley's Drills you need never run the same session twice. Loaded with over 700 pages of drills and exercises, Smedley's Drills is so vast that it may be the only collection of drills you ever need to buy.
With every drill custom designed by the author, whether you coach at a college or elite level, Smedley's Drills is guaranteed to have drills you haven't seen before. Better yet, your players won't have practiced them either, enabling you to run unpredictable and more varied drills, leading to bigger improvements from every session as a result.
Best Wishes,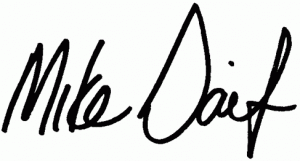 Mike Saif
President
P.S. Smedley's Drills is a vast collection of custom designed drills covering dribbling, passing, finishing, goalkeeping and every technique or skill you want to improve. With over 600 to choose from, you need never buy another coaching guide again.
P.P.S If you are not 100% satisfied with the quality of the soccer coaching resources in Smedley's Drills after six months then we will refund your purchase in full, no questions asked.