Unlock the secrets of 'The False 9' and replicate the playing style of elite attacking teams with a star player able to create more goal scoring opportunities in and around the box
Finally, the secrets of the false 9 are revealed in this great new book! The False 9 is a unique book focused on revealing the tactics and techniques needed to develop a withdrawn forward in your side. Discover how to create your own Cruyff, Messi or Fabregas with insights and training sessions focused on developing a superstar player in this unique position

(Includes NINE free analysis videos taking a look at how Messi, Fabregas, Eriksen and others all play the role of the withdrawn forward)
Dear Coach,
Spectators and coaches alike can only marvel as Messi bursts through from nowhere to score or Fabregas finds that magic pass to unlock defenses. Whilst both players undoubtedly possess exceptional natural talents, it is also the system built around them that allows them to play this way. Now you can discover how to create the system to play a withdrawn superstar forward in your own team in The False 9.
This book covers everything you need for developing a highly effective withdrawn forward in your team. From how elite teams utilize it through to an analysis of star players in this position along with training sessions focused on developing the position, everything is covered on how to develop the false 9.
So if you've ever watched in awe as Messi, Fabregas and other superstar withdrawn forwards create goal scoring opportunities in abundance, now you can discover how to create this position in your own team in this special book.

"Johan Cruyff's intelligence, tactical awareness and dictation of buildups is revealed for coaches to learn from and imitate"
Johan Cruyff is recognized as the pioneer of the false nine position. When playing at Barcelona in the 1970s he would dictate the buildup of play with patient passing and exceptional tactical awareness. He continues to be hailed as one of the game's greats, and a complete player. It's no coincidence that his playing style continues to be practiced at Barcelona by Messi and Fabregas, along with Eriksen and De Jong at Ajax.
To play the false nine teams need to maintain possession, build with patience and play a short passing game. It presents a unique way to attack the front third, a style of total control that's as entertaining to watch as it is effective.
The False 9 reveals all the secrets to playing a withdrawn forward in the mould of Cruyff, Fabregas and Messi. It looks at the movement of this player, how they link up with the players around them and how opposition defenses struggle to contain them. What's more, it contains extensive drills for developing this player and creating a superstar withdrawn forward in your own team.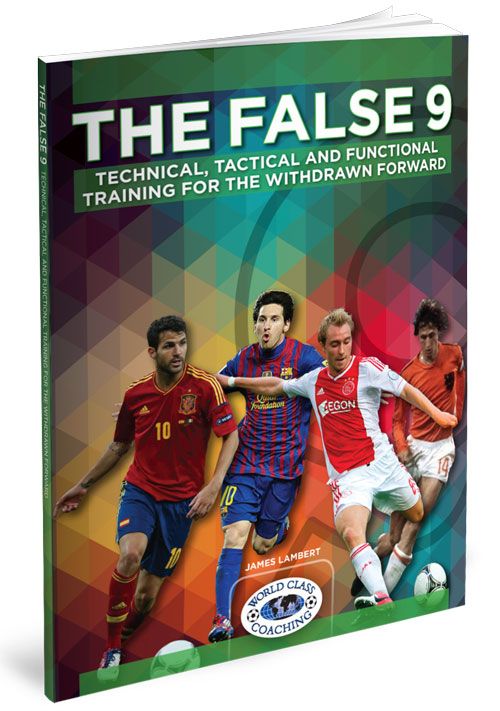 "A study of a unique position used by elite teams written by a technical coach with international experience"
What's covered in The False 9

The False 9 looks at the unique playing style that's needed to play the position effectively. Conventional, long passes to the traditional number 9 won't work. Instead, teams need to play with short passes and to provide support to the player on the ball at all times. The False 9 covers this in detail along with all the other factors for developing an effective withdrawn forward.
Chapter 1 – The Teams
The first chapter looks at how teams with high technical and tactical abilities play the false nine, with triangulation around the ball and keeping possession ranked above all else. This includes Barcelona (1974), the 2012 European Championship winning Spanish side, Barcelona (2011-12) and Ajax (2013). Screenshots are provided to highlight how the teams play the position to create more goals scoring opportunities.
Chapter 2 – The Players
Johan Cruyff continues to be regarded as one of the most intelligent players in soccer history. This chapter analyses the characteristics that make him the blueprint false nine player. This chapter also looks at the attributes of Lionel Messi, Cesc Fabregas and Christian Eriksen. Screenshots are provided to demonstrate how these players position themselves, how they time their movements and how they make explosive breaks to run onto balls and score.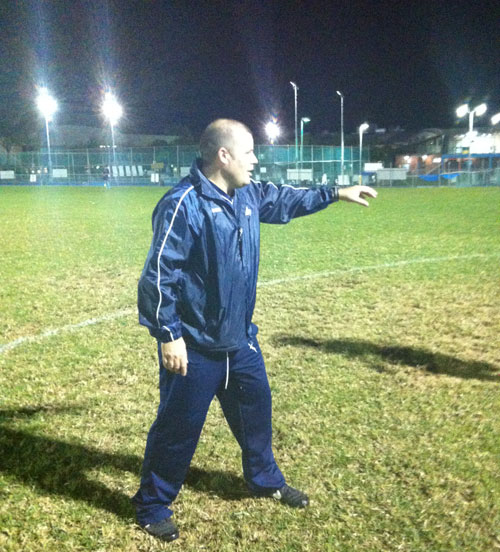 Coach Lambert in action during a halftime team talk
Chapter 3 – Sessions to Develop Players
Lambert now looks at how to create sessions to develop the false nine. This includes how to develop their first touch, their body position and movement, dribbling and timing of explosive runs. Extensive coaching points are provided along with screenshot examples of Fabregas, Messi and Erikssen demonstrating the key skills of this unique position.
Chapter 4 – Training Sessions
The final chapter provides an array of drills and a guide on how to create training sessions using analysis and creative planning. This includes functional, passing, positional and small sided games, with progressions and coaching points provided for each.

What you will gain from The False 9

Playing the false nine effectively requires high rates of possession, the ability to build with patience and the confidence to play short passes quickly. What's more, the conventional style of playing with a traditional number nine won't be effective when playing a false nine. New tactics and mindset are needed. This is why The False 9 is such a valuable addition to your coaching library. It is arguably the only book on the market that focuses purely on developing the tactics and technique needed to play a withdrawn forward in the mould of Messi or Fabregas.
From The False 9 you will gain:
Ideas and concepts for developing the false nine
An overview of the requirements to create this position
A guide to how elite teams, including Barcelona, Spain and Ajax, play with a withdrawn forward
Profiles of Cruyff, Messi, Fabregas and Christian Eriksen detailing their attributes, playing tendencies and how they play the false nine so effectively
Screenshots from real games on how false nines find space, time their movements and make explosive breaks into the box
A guide to creating sessions for developing a false nine. This includes developing their technical actions, such as their first touch and dribbling, tactics and functional skills with small sided games
A series of training exercises to develop passing skills, positional technique and small sided games for putting it all together
The ultimate result from utilizing the insights and training exercises in The False 9 is that you will be able to create your own withdrawn forward. You'll then have a player in a difficult position for the opposition to defend against, who's ready to create goal scoring opportunities and pounce onto through balls past the defense and into the box.

And get these FREE nine videos with your book

Some coaches prefer books and some prefer videos for their coaching material. We will give you both.  With your purchase of the False 9 book, we will give you NINE online analysis videos that show how Cruyff, Messi, Fabregas and Eriksen all play the role of the withdrawn forward differently.  There are also technique videos on Dribbling, First Touch and Striking the Ball.
These videos alone would cost you more than the price of the book, but they are yours free with your order.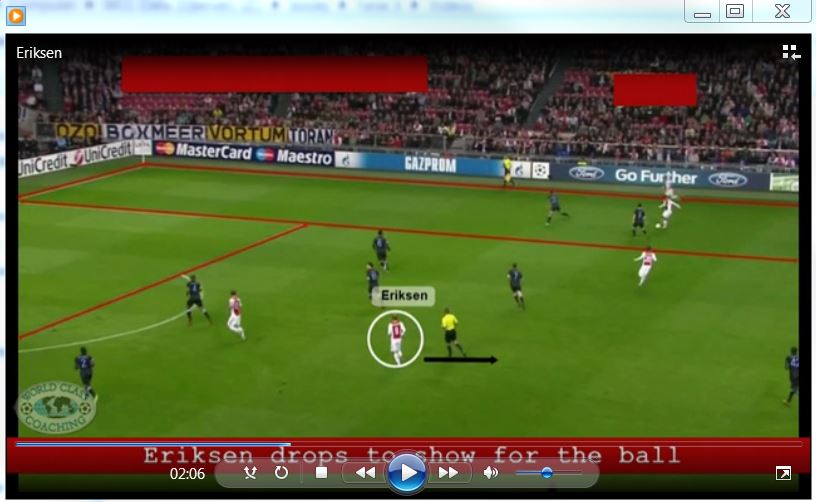 100% 'no quibbles' 6 Month Money Back Guarantee
WORLD CLASS COACHING is recognized globally for the quality of its soccer coaching resources, which are used by over 40,000 soccer coaches from around the world. The False 9 unless it achieves our exceptionally high standards. However, if you are not 100% satisfied with the quality of The False 9 after six months of implementing its drills and exercises then please contact us for a no quibbles refund.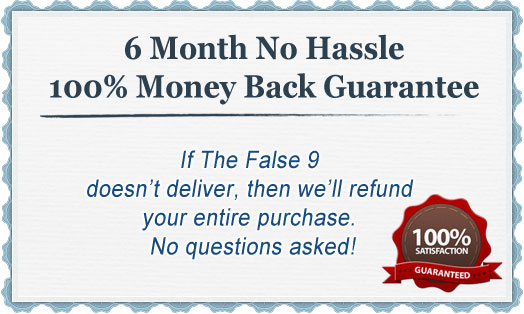 "Replicate the elite sides with a star player in a false position, which is difficult to defend against while being in a unique position to create space and chances on goal"
Every coach would love to have a Johan Cruyff, a Messi or a Fabregas in their team. A player with exceptional creativity, the ability to find space and to create goal scoring opportunities in abundance. While these players all possess incredible technical skills, their success also comes from playing a system that supports a false nine.
The False 9 provides you with everything you need to create this unique position in your own team. From insights into how elite sides utilize a false nine through to the characteristics of a false nine player and training drills to develop the position, everything is covered in this special book.
So if you've watched in awe at how Messi, Fabregas and Christian Eriksen are able to play with such space and freedom, now you can discover how it's done in The False 9 and create a superstar forward in your own team.
Best Wishes,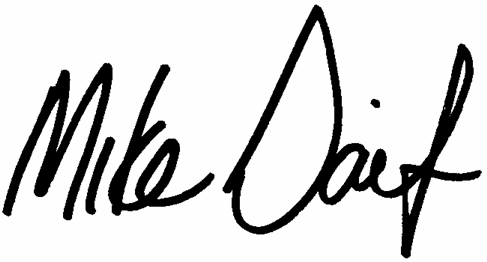 Mike Saif
President
P.S.  The False 9 is a special book focused on developing a creative attacking player in the mould of Fabregas, Messi or Johan Cruyff. It includes insights into how elite teams use the false nine along with training drills to develop this position in your own team so you can create more goal scoring opportunities with your own attacking star player.
P.P.S  If you are not 100% satisfied with the quality of the soccer coaching resources in The False 9 after six months then we will refund your purchase in full, no questions asked.